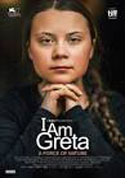 Opening 22 Oct 2020
Directed by: Nathan Grossman
Writing credits: Olof Berglind, Peter Modestij

I Am Greta gives audiences an up-close in-depth introduction to Greta Thunberg, the Swedish teen that made the climate crisis a personal crusade. Along the way, she involved the world. In 2018, 15-year-old Greta sat in front of the Swedish Parliament in Stockholm with a homemade sign and pile of information sheets for passers-by. Within days, people join Greta as the movement stutters to life. TV exposure garners attention causing a wildfire on social media, and spawns "Fridays For Future" initiative. Rather than attend Friday classes Greta, and now students globally, demonstrate demanding politicians take action about the climate crisis. Svante is at daughter Greta's side throughout guiding, cajoling her to eat, and giving support.
Invitations flow in and the Greta-team (daughter, father) travel: Poland, Belgium, France, England, Denmark, Germany, and then create excitement by sailing to New York, USA; Greta gave up flying, eating meat, etcetera at the outset. She addresses various European Parliaments—the bit at the EU Parliament with Jean-Claude Juncker defies credibility—and the UN. Dignitaries she speaks with include: António Guterres, Emmanuel Macron, Arnold Schwarzenegger, John Bercow, Pope Francis and more. Her heartfelt ruminations about peers' ostracism, the family's closeness, Asperser Syndrome, her fears, routine and normality, etcetera hit the deepest chords.
Director-cinematographer Nathan Grossman amassed an amazing amount of good footage, albeit he included no practical facts, e.g., whose paying for their traveling expenses. Editors' Charlotte Landelius and Hanna Lejonqvist with collaborating editor Magnus Svensson assemblage is disjointed, sometimes confusing, and tiresome, e.g., Greta repeating things in surplus, unessential clips that add to the film's length. The lead-in sequence is attention-grabbing, and another about Greta's non-admirers name-calling, and some eye-catching home movie clips are inserted.
Not one to mince words or spare adult's feelings, with time Greta's message hardens, e.g., "Together we can make a difference," to "We have started to clean up your mess," to " You lied to us." Teenagers' forthrightness is refreshing, as is their moral compasses tone-deafness to political correctness when confronted with deflective rhetoric and political apathy. (Marinell Haegelin)


Second Opinion

In August 2018, a teenager sat down in front of the Swedish Parliament building brandishing a sign that said she was on strike for the climate. Greta Thunberg was just fifteen years old. Right at the start, I found it unusual that this early action was captured on video in quite a professional way. But then again, I did not grow up in world of smart phone cameras and apps. Still curious though about how during the entire documentary, a camera captured so many intimate moments, I later learned that Greta's father Svante Thunberg is an experienced actor. Her mother Malena Ernman is an opera singer and actor. This is a family affair.
Greta is an unusual climate activist in part because her single-minded, passionate determination as an activist would be unusual in any teenager. This documentary highlights what makes Greta so special that she is criticized and praised by world leaders. Through all the media attention, personal attacks and adoration, Greta stays on message. Her story is worth a listen. (Mary Nyiri)