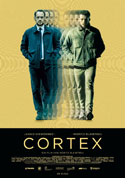 Opening 22 Oct 2020
Directed by: Moritz Bleibtreu
Writing credits: Moritz Bleibtreu
Principal actors: Anna Bederke, Moritz Bleibtreu, Marc Hosemann, Jannis Niewöhner, Nicholas Ofczarek
Cortex is a Latin word for a part of the brain which is "responsible" for dreams, emotions, and a sense of reality. Hagen (Moritz Bleibtreu) suffers so severely from horrific dreams that he is often unable to discern dream from reality. This affects his daily life, including his relationship with wife Karoline (Nadja Uhl). She works in a supermarket, where she is attracted to a young guy in a jean jacket: Niko (Jannis Niewähner). She has had enough of Hagen's craziness and starts a relationship with Niko, who is a smalltime gangster. At home Hagen sleeps a lot, even fully clothed, even during the day; his condition is defined as hypersomnia. "It turns your brain into mush and you die living in your own world." The shared relationship with Karoline seems to connect Hagen and Niko until "you turn into him if you dream about him." Soon both have nightmares and lose touch with the real world.
Moritz Bleibtreu can look back to almost 40 years of experience as an actor (starting with a TV series at age 11). He has played in over 80 films listed in Wikipedia (I counted); the most recent was the successful Ich war noch niemals in New York (2019). Turning 50 next year, he decided it was time to direct a film, a debut for him. He also wrote the screenplay and plays the leading role of Hagen, who is also 50 years old. Financial support came from the Filmförderung Hamburg Schleswig-Holstein, so that it was filmed mostly in Hamburg with additional scenes in Berlin. Naturally, it premiered during the Filmfest Hamburg, with Moritz Bleibtreu present. Cortex is being sold as a psycho thriller, after all, "death is always a new beginning." Yes, it is scary, but also confusing and I often wondered "where is this going." The best part was the excellent music by Erwin Kiennast. I am sure that Moritz Bleibtreu will continue to act and even direct; we can hope that his next film will be an improvement, based on all he learned from making this one. (Becky Tan)


Second Opinion

Moritz Johann Bleibtreu was obviously paying attention when in front of the camera, because his feature debut as director-writer-lead role is staggeringly, stunningly good. The clever script is a complex, structured psychological-sci-fi tweaked thriller about sleep deprivation effects on individuals. Eventually, the protagonists and audiences have to go back to the beginning to figure out the solution.
In his 50s, Hagen (Bleibtreu) works security at a warehouse-store, and mostly in a robotic state after tossing amidst a deluge of unsettling dreams nightly that, frighteningly, hinge on believability. This conundrum stretches surreptitiously during his wide-awake daily routines, and home life. His relationship with Karoline (Nadja Uhl), who works at a sleep clinic, is uncomfortably strained, and their daughter (Anna Bederke) is confused. Still, he keeps stumbling across tangible items in real-time; confronting Karoline about a reoccurring nightmare—an affair—she candidly tells him, "You've been living in your own world for months" in an effort to get some sort of response from him. Then, on security surveillance cameras, Hagen spots a young man whose face is disturbingly familiar; and, when the smalltime thug Niko (Jannis Niewöhner) ultimately meets Hagen, shockwaves of recognition ricochet through them.
Cortex demands utmost concentration as the fast-paced action effortlessly bounces between the two protagonists, and dreamers. The question is, how far back is each willing to go? If Hagen's dreamy nightmares are not reality, why does he keep stumbling across tangible items in real-time? Bleibtreu delves into a subject that has successfully impacted films from Wes Craven's A Nightmare on Elm Street (1984) whereby Freddy Krueger murders people in their sleep, i.e., real life, to David Fincher's Fight Club (1999) where insomnia and dissociative identity disorder are creatively combined, to Christopher Nolan's unforgettable heist flick where the thievery takes place in peoples dreams or subconscious, Inception (2010).
Cinematographer Thomas W. Kiennast effortlessly met all challenges while shooting on location in Hamburg, Germany (where the film premiered 25.09.2020 at Filmfest Hamburg). Jan Ruschke's sharp editing, Erwin Kiennast's understated music, and Tim Tamke's production design energetically move seamlessly between the film's disparate worlds and time-periods. Somewhat like the Infinity Cube toy, Cortex is a puzzle within a sleep enigma with no one-fits-all scenario solution. (Marinell Haegelin)