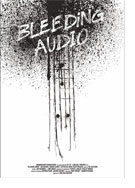 Opening 4 Mar 2021
Directed by: Chelsea Christer
Writing credits:

Director and documentary filmmaker Chelsea Christer brings to the silver screen a unique story of resilience in the award-winning music documentary Bleeding Audio. She takes us on a journey unfathomable that only the love for music, fans, friends and family could sustain the rock band, The Matches, amidst years of writing and performing (often 250-300 concerts a year) their own quality songs and often accompanied art, with very little to show for it.
Out of steam, the group disbands when the youngest member declares that he needs a break and time to get healthy. They all agree this is a wise decision after a decade of working so hard in an industry they loved. They needed to have money to build their lives. Two years of separation was too much to bear and eventually they gathered for lunch. The devastating news that their material had been jeopardized seemed unconscionable but without justified complaining fits; it thrust them into doing what they love to do and planned for a reunion tour.
Christer hears of the news that the group wants to reunite. She convinces them that their story is so rich with iconic details within the music scene that their story could be of service to those who come after them in part due to the transparency and integrity they carried throughout their career. Christer is given permission to detail a very intimate account of the infamous music band The Matches and the foursome share their explosive journey--beginning with a tour to Bosnia as teenagers, when the band was called The Locals from Oakland, California.
Singer/Songwriter, Cassadee Pope recalls the first time she saw the band The Matches live, "I was like this show is awesome. This should be in an arena. I felt like I was experiencing history in the making." Cassadee is just one musician overwhelmed by the incredible artistic talent she experienced with the music The Matches pumped out over and over again of their own design. She adds, "The Matches were always a band for me that was like, how is this not massive?"
Several well-known artists in the music world had no problem giving well-deserved praise of The Matches as each were interviewed by director and documentary filmmaker, Chelsea Christer in Bleeding Audio.
These artists: Mark Hoppus (Blink 182), Nick Hexum (311), Tom Higgenson (Plain Whit T's), Simon Neil & James Johnston (Biffy Clyro), Justin Pierre & Tony Thaxton (Motion City Soundtrack) bring a resounding freshness to sharing their experiences with the young foursome band. Immediate is the visual countenance on each person's face. First is a smile, words of overwhelming praise and then gleeful delight to share a crazy story or recollection--no doubt treasured by all. On the flip side, not one could figure out why this particular group eluded infamous musical fame. From their perspective, as a band, what The Matches had was the magic to deem a group of its caliber worthy of over-the-top success.
Hoppus says, "They were different enough to be cool and similar enough to make sense." Higgenson noted, "Their songs were great and live shows were amazing. They set themselves apart from day one." Pierre declares, "These guys are artists...they are in a whole other world."
Christer brings to light so many delightful situations of the band's journey that just watching her style of documentation makes you smile. If they were not writing songs backstage, they were creating artwork for their next poster or gig and avoided the middleman with this work. They thrived on the energy, fun and comradeship it produced. They loved it! Together they were beyond talented and a force to be reckoned with in the music industry. They were young, energetic, and talented with a humility one rarely sees visible in rock groups. I believe that stemmed from the respect each had for one another which formed a mixed bond of trust and joyful comradery to carry them on through hard times; similar to how J.R.R. Tolkien describes friendships to us in his Hobbit world.
They love being together to make exceptional music for themselves and their fans. Christer endears the audience of the unique ways The Matches have created their longevity. Since the beginning, they loved on their fans. Christer will show us how this transpired. An impressive part of their story! All I can say is, "Wow! It's truly amazing because they go the extra mile. It really makes you smile!" (Karen Pecota)