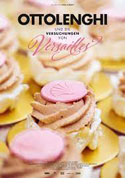 Ottolenghi und Die Versuchungen von Versailles (Ottolenghi and the Cakes of Versailles)
U.S.A. 2020
Opening 21 Oct 2021
Directed by: Laura Gabbert
Writing credits: Laura Gabbert
Principal actors: Yotam Ottolenghi, Dominique Ansel, Ghaya Oliveira, Janice Wong, Dinara Kasko
When thinking of the palace of Versailles, images of Louis the Sun King, his son Louis V, Marie Antoinette, and the French revolution come into mind. I can imagine hungry peasants of Paris, having need of bread, storming the footsteps of Versailles, resulting in birth of Marie Antoinette's famous quote "Let Them Eat Cake" which now represents those desperate times. The New York Metropolitan Museum has taken a decisive and interesting view into the life of this palace to get a closer view into the court's life during this time. They decided to create a culinary art event that caught the extravagance of the time as well as the history of an international exchange of ideas and invention. It was the high point of this regime and exemplifies a cultural importance which since then has never been duplicated. The culinary event that was planned would be creating an extravagant dessert buffet set in a garden of famous French sculptures of the time. It became clear to the committee that there was only one man who could pull this off: Yotam Ottolenghi.
For many of you who do not know Yotam Ottolenghi, you may be surprised to discover that he is a London-based successful guru/chef with an international flare. He uses historical and philosophical ideas that bring his recipes to a higher level that intrigues all of us foodies out there. Born in Israel to academic parents, with the expectations of following that road, he soon realized that was not his calling. He gives us an inside view of his personal life, his success with the cooking world, and his attempt to fulfil the Met's request by creating a team of international professional artistic chefs that will not only draw from this source but will bring in their own contemporary and innovative talents. He brings along his Palestinian business partner Dominique Ansel as well as the Tunisian-born award-winning pastry chef Ghaya Oliveira. For innovation he flew to Singapore to locate Janice Wong renown for her edible sculptures, and to London where the innovative artistic company of Bompas and Parr resides. These two have become famous for their recreation of Jello molds and Sam Bompas agreed to be part of the team. The final team member is the Ukrainian, Dinara Kaskoknown as an Instagram sensation with her artistic cakes. It is one of the most enjoyable films I have seen in a long time since it concentrates on history, culture, food, and storytelling. It is a feast for our senses, and you are guaranteed to leave the cinema in high spirits. You might even want to bake a cake. (Shelly Schoeneshoefer)


Second Opinion

Director Laura Gabbert has whipped up a delectable, surprising concoction with a wide range of ingredients consisting of food, art and history, and chefs. When London based Yotam Ottolenghi, our charming, personable guide, received an E-mail from the Metropolitan Museum of Art (MoMA) in 2018, he was flummoxed, then flattered. New York City's world-renowned museum was planning a food event with the opening of its special exhibition, Visitors to Versailles (1682–1789).
The master chef, restaurateur, and cookbook writer was teamed with food historian Deborh Krohn to create an edible (pastry) extravaganza to parallel Versailles in its heyday. From its position of power and privilege throughout the 17th and 18th Centuries, Versailles unvaryingly is a fantastic canvas for inspirations. Yotam believes, "A recipe isn't that good if it doesn't have a story behind it." This is MoMA and Yotam's story; taking up the challenge, five innovative, standout pastry chefs from around the world were invited to participate.
Based in the Ukraine, Dinara Kasko applies her architecture studies to crafting cakes and tidbits using 3D-modeling technologies. French baker Dominique Ansel is perhaps the most famous with his signature croissant-doughnut pastry, the Cronut®, plus others. London's Bompas and Parr – Sam Bompas, Director, and Harry Parr – are sensory magicians and masters when it comes to jiggly jello. Tunisian-born Ghaya F. Oliveira, executive Pastry Chef at Restaurant Daniel, is a chocolate maestro, while Singaporean Janice Wong's specialty is serving pastry as "interactive, edible art." Against scrumptious, personalized backgrounds (event planner Preston Bailey's creations), these pastry artisans, given a tight timeframe, scurry setting up before guests, many in period attire, enter to enjoy the fare.
Behind the camera is Judy Phu, whose variety of shots/angles is commendable, and generous, for editors Philip Owens and Faroukh Virani to arrange, with Ryan Rumery's music filling out the smorgasbord. Too long? Au contraire, at 75-minutes Ottolenghi's Cakes leaves us mouthwateringly hungry. Audiences have a chance to meet these chefs extraordinaire, rather briefly, because details are swallowed by opulent Versailles' history and art, and trips here and there, forgetting the old adage, "Too many cooks—and ingredients—spoil the pot." Nevertheless, the Met receives support by money raised through its opening galas, and patron's commitment to art. Undoubtedly, MoMA did serve up "… spectacular and imaginative cakes in tribute to the court's decadent cuisine," that makes for tempting viewing. (Marinell Haegelin)