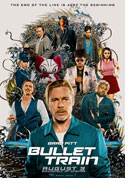 Opening 4 Aug 2022
Directed by: David Leitch
Writing credits: Zak Olkewicz, Kôtarô Isaka
Principal actors: Brad Pitt, Joey King, Aaron Taylor-Johnson, Brian Tyree Henry, Andrew Koji
The "Shinkansen," a type of passenger train, is the crème de la crème of Japan's high-speed rail network. Nicknamed bullet trains, they run at speeds of up to 320 km/hour, are revered for their punctuality—doors open for only 1-minute at stations, spacious comfort—all seats face forward, efficiency and safety—no fatal accident in its history. Estimated travel time between Tokyo and Kyoto: two hours 49 minutes.
Convinced he is jinxed, Ladybug (Brad Pitt looking good) wants to pack it in and keep meditating on life. Instead, his handler Ms. Beetle (Sandra Bullock) sends him on an assignment aboard a shinkansen to retrieve a briefcase. Unsuspecting, the Twins, aka Lemon (Brian Tyree Henry) and Tangerine (Aaron Taylor-Johnson) are immersed in their assignment with the Son (Logan Lerman) in the Quiet car. Unbeknownst, when the badass Mexican hombre Wolf (Bad Bunny) climbs aboard, his sight is squarely set on retribution, whereby a briefcase can come in handy. In fact, the train is crawling with unwitting assassins heedless of anything other than their prime intention and not attracting attention; strong crosscurrents are at play. The Prince (Joey King), who has a thing for heights, makes Yuichi Kimura (Andrew Koj) an offer the Elder (Hiroyuki Sanada) has no choice but go along with. Buzzing in the background is Hornet (Zazie Beetz), whose sting can be deadly if a flyswatter is not handy. "Be careful. There's something else going on here," the more astute twin observes. Yet every time poor ol' Ladybug thinks he can slip away, he almost gets squashed. And that is before the White Death shows up.
Director David Leitch's (Atomic Blonde, 2017, Deadpool 2, 2018) bold as brass energy propels this zany comedy. Based on Kōtarō Isaka's novel Maria Beetle (English translation, Bullet Train), during development Zak Olkewicz's screenplay twisted into a wisecracking, burlesqued runaway action flick. Leitch has been Brad Pitt's stunt double, albeit Pitt did 75% of his own stunts here and his verbal punches are spot-on. The cast deliver their deliciously nasty characters with aplomb. Production values are stellar: Jonathan Sela's cinematography, Elísabet Ronaldsdóttir's editing, Dominic Lewis' music and the awe-inspiring special effects and visual effects magicians. Plus, kudos to the many spectacular stunt persons.
One should not take Bullet Train seriously. Just jump onboard and hang on as this trainload is destined for high-octane choreographed violence before we arrive. Worth considering is that well-known maxim, "Karma is a bitch." (Marinell Haegelin)