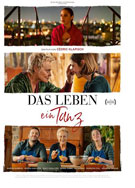 Das Leben ein Tanz (Rise, En corps)
France/Belgium 2022
Opening 8 Sep 2022
Directed by: Cédric Klapisch
Writing credits: Santiago Amigorena, Cédric Klapisch
Principal actors: Marion Barbeau, Hofesh Shechter, Denis Podalydès, Muriel Robin, Pio Marmaï
Elise (Marion Barbeau), a ballerina on the rise for the Paris Opera Ballet corps, is performing before a full house when an accident sends her to the hospital and her ankle into a cast. To dance is her passion, her life, and at 26 her career is just beginning. The doctor's diagnosis is not favorable or conclusive; her physiotherapist Yann (François Civil) patiently guides her in more ways than one. She is introduced to Hofesh (Hofesh Shechter); later Elise and friends see his contemporary dance troupe practicing. Her father (Denis Podalydès) and sisters Mélodie (Mathilde Warnier) and Aria (Marilou Aussilloux) try to cheer Elise. When Loïc's (Pio Marmaï) food truck gets a contract at an artists' retreat, naturally Sabrina (Souheila Yacoub) goes, and they take her friend Elise to help out. The owner Josiane's (Muriel Robin) wit and wisdom seems to work wonders on Elise, markedly when Hofesh and troupe arrive. She feels a magnetism toward one of the dancers (Mehdi Baki), and the innovatively charged dancing. On point, can she dare to take a risk?
Worth noting is Hofesh—the Israeli dancer, choreographer, composer and founder/artistic director of his eponymous company—is the real thing, as is Marion—Première Danseuse (principal female dancer), Ballet de l'Opéra de Paris making her acting debut. Whether a dance aficionado or not, the impulse, energy and exhilaration in the classical and contemporary dancing will undoubtedly lift your spirits. Cédric Klapisch directed and co-wrote the screenplay with Santiago Amigorena; principally a comedic director, Klapisch wisely chose to incorporate these professionals switching to a romantic-cum-action-cum-adventure drama.
Filming in Paris and Brittany, Alexis Kavyrchine's embracing cinematography captures the film's physicality and its inherent naturalness; Marie Cheminal's production design and Stephanie Laurent Delarue's art direction establish mood and atmosphere, buoyed by Thomas Bangalter and Hofesh Shechter's music. Editor Anne-Sophie Bion's long introduction edit, basically sans dialogue is brilliant, but the film's fluidity is tied to the screenplay, i.e., character development and it oscillates accordingly. Nevertheless, its clumsiness is overlooked in lieu of Das Leben ein Tanz's dance scene's ability to make audiences feel so alive. (Marinell Haegelin)


Second Opinion

At age 26, Elise (Marion Barbeau) is a successful classical ballet dancer in Paris. Then, she trips and falls during a performance. Her physician Dr. Tran and therapist Yann (Francois Civil) predict a necessary two-year recovery for her injured leg. Her father reminds her that she should have studied law, as he did. She slowly accepts this new situation and goes to the Bretagne, where she spends time on the beach replanning her future and making new friends. An unusual group of singers and dancers, led by Hofesh (Hofesh Schecter) move into her hotel, which is run by an elderly lady, Josiane (Muriel Robin). Elise, of course, is attracted to the dancers, and amazed at their contemporary style, a kind of hip hop. In spite of her injuries, she begins to join these dancers for a whole new future.
This film opens with about 15 minutes of Marion Barbeau performing scenes from the ballet La Bayadére with the Paris Corps de Ballet. Amazing that Barbeau is not only, in real life, a primary dancer (premiére danseuse) with the Paris ballet, but she also has talent as an actress, perfect for the role of Elise. And then there is Hofesh Schecter with his group of approximately 20 performers. Schecter, originally from Israel, formed the Hofesh Shechter Dance Company in 2008 and works from London. It was natural, that Elise would converse with him in English throughout the film. The storyline is not especially original; it rests on the idea of finding yourself and planning your life, coping with surprises and disadvantages, making the right decisions. The German title Das Leben ein Tanz could be literally translated to "Life is a Dance" and there is much discussion of the philosophy of ballet (is a tutu really corny?) and the idea that falling deep, leads to rising high. We learn about Elise's childhood, taking ballet lessons at age 6, and family. Her mother, also a dancer, is deceased. We meet her friend Sabrina, her boyfriend Mehdi and dance partner Robinson. Naturally, this is a wonderful film for anyone who enjoys dance. Original music composed by Hofesh Schechter and Thomas Bangalter. (Becky Tan)