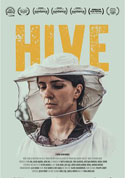 Opening 8 Sep 2022
Directed by: Blerta Basholli
Writing credits: Blerta Basholli
Principal actors: Yllka Gashi, Çun Lajçi, Aurita Agushi, Kumrije Hoxha, Adriana Matoshi
Writer-director Blerta Basholli's screenplay, based on a true story, struggles under the weight of its many subplots, and the lack of contextualizing at the beginning; body bags and UN vehicles are meager clues. Simple black cards stating it is seven years after Kosovo's 1998-1999 war when Serbian forces seized more than 200 healthy males from the war-ravaged villages of Krusha e Madhe/Velika Krusa would have added perspective. When Hive focuses on the interplay in Fahrije Hoti's personal relationships and social interactions among peers is when we discover and understand the complexities of narrow-minded communities most.
Lacking institutional support, the village's numerous widows barely support their families. They want full-time work, yet without a car it is hard to find a job. Fahrije (Yllka Gashi) luckily has her missing—or massacred—husband's beehives and his aging father Haxhi's (Çun Lajçi) help selling honey at the market; she works tirelessly. Village elders tolerate it. With Nazmije's (Kumrije Hoxha) help they put a bold plan in motion; it is sound and nonthreatening to the male-controlled community as it only involves cooking. Fahrije gets a driving license, and Nazmije lends her an old reliable auto. Fahrije's driving is what the ultraconservative patriarchs will not tolerate: they disrupt, they sabotage, just as the women shun her. Fahrije tenaciously, defiantly continues; her teenager Zamira (Aurita Agushi) is deeply embarrassed, son Edon (Mal Noah Safqiu) is baffled, and Haxhi reminds her her actions affect them all. Persistence pays off; Lume (Adriana Matoshi) and others trickle along. In life, nothing is set in stone.
Gashi's performance is forceful as is the supporting cast compelling; many residents were extras from the neighboring village where Hive was filmed since Krusha e Madhe had to be rebuilt after the war. The bigotries, misogyny, and craven abdication by predominantly men are societal ills prevalent worldwide, as is relegating disadvantaged and poorer populaces. The moral courage women demonstrate is a lesson to all. Alex Bloom's documentary style camerawork is effective, extensive; Félix Sandri and Enis Saraçi edit with music by Julien Painot.
Fahrije Hoti's agricultural cooperative "Krusha" now supports fifty employees and she purchases produce from neighboring farmers. In April 2022 when awarded the annual European of the Year award by Tomas Szunyog, head of Kosovo's EU office, he cited Hoti as "the best example of how to turn a painful experience into courage and resilience." (Marinell Haegelin)


Second Opinion

Based on a true story, the award-winning filmmaker Blerta Basholli writes the screenplay and directs her latest film project called Hive. Basholli uses these following two sentences, one as a tagline and the other as a logline to quickly describe the message of her narrative: 1) One woman's fight against the patriarchy is every woman's victory; 2) She lost her husband, and in the struggle to go on, she gains her freedom.
The tragedies of a war-torn country are not the only seen with the naked eye. It's the pain one cannot see of loved ones lost or never found that lasts a lifetime. Survivors of war have two choices: 1) take their pain of loss, dwell on it and become too paralyzed to start anew; or, 2) use the resources available to them to start a new life--possibly alone or together with others who have suffered the same loss.
Basholli shares one such story of the people in the Krusha e Madhe village in Kosovo. While working on a school project in her apartment, Basholli was listening to a lady, Fahriji Hoti, who lived in Kosovo, talk about getting her driver's license. This was no small task for her. She endured intense ridicule from the people in her village to go against traditions of a woman's place. Basholli found Fahriji's story difficult and yet fascinating.
Basholli recalls, "I was intrigued by her will and power to not only survive, but to achieve something great and never look back." She adds, "Her positivity and energy are fascinating. That is something I wanted to bring on screen, a strong female character, full of colors and a woman protagonist that needs to be seen by Kosovo and a wider audience." Basholli explains, "In March of 1999, the village Krusha e Madhe experienced one of the biggest massacres during the war in Kosovo. More than 240 people from the (Fahriji's) village were killed and gone missing." She continues, "Today, twenty years later, over 1600 people from the country of Kosovo are still missing, and 64 from Krusha e Madhe." Basholli acknowledges, "Many suspect a different outcome of those missing and there are still some who hope they will return...alive."
Fahriji was caring for two young children and other family members in the absence of her husband. She had to find a way to financially survive. Her husband Bashkim worked abroad but enjoyed making money on the side as a beekeeper. Fahriji was no good at keeping bees in order to produce enough honey to survive on the proceeds. She needed to find another opportunity to provide for her family. She saved enough money to get her driver's license because this was the way forward to secure work in the city. Disappointed at the difficulty to find work as a woman in a patriarchal society, Fahriji started a little business making homemade goods. A supermarket manager in the big city decided to market her products. Fahriji's homemade goods were in such demand her business blossomed to where she needed more help and began to employ other widows in her village. In spite of the pushback from the village people, her struggles only gave her the will to survive. Amidst the drama of Fahriji's challenges, Basholli details how Fahriji's dream became a reality in her narrative Hive. (Karen Pecota)