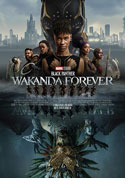 Black Panther: Wakanda Forever
U.S.A. 2022
Opening 10 Nov 2022
Directed by: Ryan Coogler
Writing credits: Ryan Coogler, Joe Robert Cole
Principal actors: Letitia Wright, Lupita Nyong'o, Danai Gurira, Winston Duke, Angela Bassett
The King is dead, long live the…. There is a power vacuum in the Kingdom of Wakanda, there is no successor to the throne. There is no successor to King T'Challa or to his other persona, Black Panther. King T'Challa has died of a mysterious disease and even his genius sister Shuri (Letitia Wright) can't save him. T'Challa had only gained Black Panther's enhanced powers after drinking a potion from the single remaining mythical native plant, a heart-shaped herb in a sacred ritual. The villain Killmonger had viciously destroyed all the other heart-shaped plants by burning them.
The film begins with a spectacular funeral celebration that is shrouded in joyous yet profound mourning that goes beyond mere acting. Chadwick Boseman, the actor who played King T'Challa in the blockbuster film Black Panther (2018) died unexpectedly at the age of 43 in Los Angeles in 2020 long before the sequel was filmed. The imaginary fantasy world of Marvel Studios and the cruelty of the real world merged. So Black Panther: Wakanda Forever now begins with a funeral.
The kingdom of Wakanda, long hidden to the world, is an innovative, futuristic country envied for its advanced technology and possession of the rare metal vibranium, which is mined only in this small African nation. Vibranium absorbs all vibrations in the vicinity as well as kinetic energy, rendering it virtually indestructible. Those who possess vibranium could rule the world. But Wakanda is a peaceful country and has no plans for world domination. After King T'Challa's death his mother Queen Ramonda (the elegant Angela Bassett) is in command. She is supported by his brilliant scientist sister Shuri and the bald-headed female warrior Okoye (Danai Gurira), leader of the Dora Milaje, an elite, all-female group of warriors. Also coming to her side is T'Challa's former lover Nakia (Lupita Nyong'o) who had slipped away to live in Haiti. All these women are familiar characters from the original film. Another female unexpectedly, and not so willingly, joins the team: Riri Williams (Dominique Thorne), a 19-year-old MIT student and inventor from Chicago. Yes, Women Rule in this latest Marvel Studios production.
Male characters, of course, play significant roles; this is, after all, the Marvel Cinematic Universe. Two beloved characters reappear: M'Baku (Winston Duke) the irreverent leader of Wakanda's mountain tribe, the Jabari, and Everett K. Ross (Martin Freeman), the congenial CIA operative and friend of the Wakandan nation. But there is a new man in town: Namor (Tenoch Huerta), the King of Talokan, a hidden ancient civilization of underwater dwelling people. Namor is worried for his people's survival and tries to coerce peaceful Wakanda into a war pact against the rest of the world. A frightening adversary, this omnipotent mutant emerges from the water on winged feet with his warriors to confront Queen Ramonda and Shuri. Wakanda is vulnerable until the sacred heart-shaped plant can be found within the kingdom so a powerful new Black Panther can be anointed from the royal family.
And this is just the beginning of the 162-minute odyssey.
Viewing Black Panther: Wakanda Forever is a marvelous experience. The visual effects, the production design, the cinematography, and the costumes make it a visual paradise—from the bustling city of Birnin Zana, to the Lion King-evoking countryside, to the underwater kingdom of Talokan. For bloodthirsty thrill seekers there are scores of battle scenes on land, on sea, under the sea, and in air; there is even the requisite highspeed car chase, this time in Cambridge, Massachusetts. The soundtrack features over 40 international artists recorded in Lagos, Nigeria, Mexico City, London, and Los Angeles, a musical cultural embrace. Rihanna's new song "Lift Me Up" as part of the movie's fantastic score, becomes an anthem and touching tribute to the actor Chadwick Boseman. He (and his character T'Challa) is sorely missed in this sequel; and yet his legacy of dignity has enhanced the entire film. (Pat Frickey)


Second Opinion

In 2018 the Marvel Cinematic Universe (MCU) expanded when, with its 30th film, it introduced the Marvel Comics eponymous hero Black Panther, portrayed by Chadwick Boseman as King T'Challa. Directed by Ryan Coogler with a screenplay co-written with Joe Robert Cole, the film was phenomenally successful internationally. Resplendently detailed and exquisitely textured, the film's production designers, art directors, and visual artists fulfilled their roles in creating a freshly novel world accurately faithful and respectful of African cultures and influences that entranced, stimulated, and impressed audiences. The 2018 film completed Phase Four of MCU.
At Marvel Studios and Walt Disney Studios' urging Coogler and Cole reteamed to steer the nation of Wakanda in this superhero action film sequel, Black Panther: Wakanda Forever. Since 2007 Marvel Studio president Kevin Fiege has been the primary producer masterfully guiding MCU and foresaw how "different subcultures" and characters might be explored to enlarge the Wakanda Kingdom in a sequel. After negotiating the bulk of the major creative teams return, the script treatment was written and a screenplay drafted when Boseman unexpectedly died of colon cancer in August 2020. Production halted. To honor Boseman's impact on bringing to fruition the Black Panther, decisionmakers followed the original comic book's lead.
Honoring the king and the man's legacy, the sequence above opening credits is a majestic funeral tribute followed by a 8-12 second respectful pause. Then MCU mightily launches into Black Panther's Wakanda Kingdom's representative in Switzerland taking on the United Nations. The comic's characters—in the flesh—are wonderfully developed – their strengths, foibles and idiosyncrasies, and meanness's, chicanery. Reprising their roles from the original Black Panther are Letitia Wright / Shuri, Angela Bassett / Ramonda, Lupita Nyong'o / Nakia, Danai Gurira / Okoye, Winston Duke / M'Baku, Florence Kasumba / Ayo, Martin Freeman / Everett K. Ross, Michaela Coel / Aneka. Debuting is the supersmart, super-talented Riri Williams / Dominique Thorne, Namor / Tenoch Huerta, the Talokan king with a huge chip on his shoulder and wings on his feet and his fractious disagreeable niece Namora / Mabel Cadena, and Maria Mercedes Coroy / Namora's mother and Talokan warrior Attuma / Alex Livinalli -- unbelievably even the villains are not totally unlikable.
Production values excel, as does its energetically intense soundtrack with African drummers, music, songs and Mayan influences and a fresh original score. Plus, hints of blending's within the Marvel Universe to come. What supersedes its sci-fi creativity and imagination is how Black Panther: Wakanda Forever transcends color, race, territorial boundaries, and ethnicity to unite audiences in rooting for Wakanda's just moral integrity, its hopefulness and its future. (Marinell Haegelin)