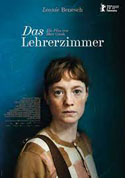 Das Lehrerzimmer (The Teachers' Lounge)
Germany 2023
Opening 4 May 2023
Directed by: Ilker Çatak
Writing credits: Johannes Duncker, Ilker Çatak
Principal actors: Leonie Benesch, Leonard Stettnisch, Eva Löbau, Michael Klammer, Anne-Kathrin Gummich
A young teacher full of ideals and principles, Carla Nowak (Leonie Benesch) struggles to survive her first-year teaching seventh graders in Anywhere, Germany. Though filmed in Hamburg, Çatak deliberately avoids such familiar landmarks as the scenic harbor or the towering Elbphilharmonie. All the action takes place in the school, except in a brief scene in which Carla pursues a runaway student.
The film begins in Carla's classroom where the students, though middle schoolers, tolerate her enthusiastic call/response and clapping attention getters; they settle down quickly ready to learn. They like their pretty, young math/PE teacher who goes out of her way to promote honesty, fairness, tolerance, and respect in the classroom. The teachers' lounge is another world. Seemingly friendly colleagues tend to pry into the goings-on in this neophyte teacher's classroom. Wanting to fit in, she requests her fellow-Polish-born colleague to speak only German with her. Teachers pass out cake on their birthdays. One colleague surreptitiously steals money from the bottom of the coffee fund/piggybank. Carla notes it, then looks away. Secretary Friederike Kuhn (Eva Löbau) in her adjoining office is a welcoming face teachers can always run to in a pinch.
Things are perfect in Carla's classroom. However, things are not right in the rest of the school which maintains a no tolerance policy on theft. Someone is stealing money, and the indomitable headmistress Dr. Böhm (Anne-Kathrin Gummich) is determined to find the perpetrator. There is suspicion it is someone in Carla's class. Every single principle Carla believes in is subtly undermined. Mistrust, deceit, racism all starting at the top of the school trickle down to her seventh graders. Feeling overwhelmed, overpowered, and disrespected, she plays detective with her computer's video camera to try to discover who has been stealing money in the school. Though her star pupil Oskar (brilliantly played by Leonard Stettnisch) is not in the video he gets ensnarled in the investigation, is bullied, then suspended from school. What had once been a happy nurturing seventh grade classroom has turned into a den of intolerance, insolence, and mistrust. The class has turned, yet Carla makes one last desperate attempt to save Oskar.
As a teacher of more than forty years, I got a little nervous watching Carla leave her class alone during crisis situations. That's a real no-no in the world of education. However, what was deeply disturbing was watching Carla lose the respect of her students, their parents, and her colleagues as her isolation deepened into a scene where a panic attack forced her to secretly retreat to the restroom and breathe into a plastic bag to recover. Marvin Miller's brilliant score accompanies her on every step of her terrifying journey. There is nothing overtly evil going on in the school. But just scratch beneath the surface. (Pat Frickey)


Second Opinion

Director İlker Çatak's (Es gilt das gesprochene Wort, 2019) newest film is a biting social commentary. The edgy screenplay by Johannes Duncker and Çatak endows Leonie Benesch's character a meaty, agonizing pivotal role re moral courage, and metaphorically it is a German secondary school with regard to societal problems. Considering the reactions and abreactions in confronting uncomfortable realities it is uncertain whether one feels sorrier for the students, the teachers, or neither by the end.
The film begins by introducing one of the protagonists, while setting the framework of the institution's conundrums and insularity. A plague of unsolved thefts has disrupted normal operations, and Carla (Leonie Benesch gives an excellent, full-scale performance) participates in one, and then another pupil's questioning, the latter a Turkish student and his parents. New to the job, young, and teaching math and physical education, in this instance to 12-year-olds, is something Carla obviously loves and her class responds positively to. She squirms sitting through school principal's meetings; a forward-thinker of Polish heritage and fluid in other languages Carla finds the heavy-handed approach counterproductive. The teachers' lounge fills many functions for the large staff, besides being a safe zone from students. While working at her computer Carla witnesses another's compromising act, then personally experiences theft; she acts, and ensnares the culprit (Eva Löbau). The guilty party's stubborn resistance drags her 12-year-old son Oskar (Leonard Stettnisch) into the predicament and introduces our second protagonist.
Carla sticks to her principles; the staff meddlers (Michael Klammer, Sarah Bauerett) are loquacious as the others sit by silently; rumors fly, and she is ostracized. Oskar attempts to understand before changing tactics. Carla's class is confused, becomes disruptive. The school's student newspaper interview turns into a fiasco by older, social media informed students' "truth." Some oscillate, nerves fray, some persevere. At the end of the day, the strength of two sets the bar high for a school of hundreds.
Productions values are sound: Judith Kaufmann's cinematography, Gesa Jäger's editing, and Marvin Miller's temperamentally targeted music. The ramifications in The Teachers' Lounge are as insidious and pervasive as cancer. Not a poster for attracting candidates to the teaching profession, although it certainly provides mental stimulation and food for thought. (Marinell Haegelin)