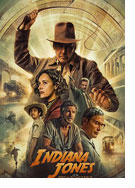 Indiana Jones und das Rad des Schicksals (Indiana Jones and the Dial of Destiny)
U.S.A. 2023
Opening 29 Jun 2023
Directed by: James Mangold
Writing credits: Jez Butterworth, John-Henry Butterworth, David Koepp, James Mangold, George Lucas
Principal actors: Harrison Ford, Phoebe Waller-Bridge, Antonio Banderas, Karen Allen, John Rhys-Davies
Indy is back! Nostalgia sumptuously intertwines with action in this fifth and final film of the franchise which began in 1981 with Raiders of the Lost Ark. Throw in some evil Nazis wrestling Indy on the top of a speeding train, add car, motorcycle, and tuk-tuk chases, and don't forget an ocean of eels to replace a tomb full of snakes. Legendary archaeologist Professor Indiana Jones (Harrison Ford) with his whip and fedora is back on screen, reassuring us that his legacy lives on.
The film opens with a familiar scenario. In the waning days of the Third Reich, Indy is pitted against fellow scientist Dr. Jürgen Voller (Mads Mikkelsen) who is snatching up precious ancient artifacts to present to his beloved Führer. Remarkable to the moviegoer is how young this now almost 81-year-old Ford looks. Let's be candid. Many in the audience are drawn to the film in part just to see how this iconic actor has held up. Rather than using archived film footage from the other four films the studio has applied de-aging VFX technology coupled with AI (YES!) for this opening 25-minute scene. Ford looks and moves like a 35-year-old.
Fast forward to 1969 when a not yet doddering, but grumpy Professor Jones is just retiring from teaching his (as usual) extremely bored students in a university lecture hall. Indy has been living a life of quiet desperation in a semi-squalid apartment in New York City, his wife Marion (Karen Allen), his love interest from the first film, has left him. During his final class Helena Shaw (Phoebe Waller-Bridge from Fleabag fame), a suspiciously erudite "student" appears, and before he knows he is reluctantly off with her on his next adventure. Helena is the daughter of his friend, fellow archeologist Basil Shaw (Toby Jones) and Indy's long-lost goddaughter. Basil was with Indy thwarting the Nazis on the top of the speeding train cars in the opening scene snatching the mystical Dial of Destiny (Antikythera Mechanism) from the clutches of the treacherous Germans. Helena is a force to be reckoned with, much more ruthless and money grubbing than her befuddled now deceased father. Waller-Bridge is brilliant in the role of Helena as a spunky, fearless heroine who shamelessly robs Indy of his half of the Dial which gives him the impetus to join forces with her to search for the other half. According to legend its inventor Archimedes prudently split the Dial in two and hid the other half, for once it is rejoined it will allow its owner to control the forces of space and time.
It's no coincidence that 1969 in the summer of the Moon landing is the timeframe of most of this two-and-a-half-hour film. Dr. Voller, Indy's Nazi nemesis on the speeding train (now under the alias of Dr. Schmidt) is working on the American Apollo 11 program. This brilliant scientist had been recruited by the US government after the war to share his expertise with NASA in an attempt to beat the Soviet Union in the Space Race (a not too subtle nod to Wernher von Braun). However, the FBI cannot seem to control this German born villain who still secretly dreams of Nazi world domination. Now that the Apollo 11 moon landing is a success, Dr. Voller bolts and begins his own personal race to locate the two halves of the Dial of Destiny ahead of Indy and Helena. He is a mad scientist with a sinister plan to change the course of history.
As an unexpected twist, for the first time neither did Steven Spielberg direct the film, nor did George Lucas write it though both were executive producers. Fortunately, director James Mangold captures the essence of the franchise including familiar characters and globe-trotting scenarios to ignite nostalgia and portray the feel of an innocent, not-so-long-ago era. Mangold chose to film many of the scenes on location rather than depending only on CGI. Iconic John Williams composed the music for his fifth Indiana Jones film; the stirring theme song crops up at the most precarious moment for Indy, as always. The very best part of this final Indiana Jones film is watching the still quite agile Harrison Ford as the crusty adventurer who now might have trouble mounting a horse but once he does, gallops down 5th Avenue dodging the Astronauts Ticker Tape Parade escaping into the underground subway. Always ironic, never very polite, but always endearing with that crooked smile, it's a joy watching Harrison Ford's last hurrah as Indy, brimming with self-deprecation, bravado, and class. Indiana Jones and the Dial of Destiny is a film not to be missed. (Pat Frickey)


Second Opinion

In the opening sequence Indiana Jones dials back to its 1981 conception film, Raiders of the Lost Ark, with the Nazis on the run as Allied Forces turn the tide of dastardly world chaos. But the media franchise's concept stretches back to early 1970s when George Lucas conceived his fictional daredevil archeology professor—his endeavor at updating the 1930s/1940s adventure series. After discussing the concept with Philip Kaufman, he brainstormed the idea with friend/colleague Stephen Spielberg. Subsequently, Lucas and Spielberg signed a five-film deal with Paramount Pictures.
Spielberg worked in close collaboration with Lucas directing the four-prequel franchise films; wearing his beloved battered fedora with whip in hand, Dr. Henry Walton "Indiana" Jones, Jr., an adventurous archeologist, relishes righting wrongs. Raiders (1981, set in 1936) with Lawrence Kasdan's screenplay, Indiana Jones and the Temple of Doom (1984, set in 1935) with Gloria Katz & Willard Huyck's screenplay, Indiana Jones and the Last Crusade (1989, set in 1912/1938) with Jeffrey Boam's screenplay and Indiana Jones and the Kingdom of the Crystal Skull (2008, set in 1957) with David Koepp's screenplay. The main players contributed to each film's carefully thought-out storyline to safeguard other projects' replication, honor certain time-period aspects, and develop realistic MacGuffins.
For Indiana Jones and the Dial of Destiny (set in 1944/1969) James Mangold directs from Jez Butterworth, John-Henry Butterworth, David Koepp, and Mangold's screenplay; it lacks the Lucas/Spielberg pizazz. Saved by Harrison Ford's (Indiana Jones) great charismatic, amicable attitude, lopsided grin, and those mischievous-cum-undaunted blue (with brown pupil ring) eyes.
Amidst the Apollo moon landing's hullabaloo, the retiring professor's old colleague-adventurer Basil Shaw's (Toby Jones) daughter Helena (Phoebe Waller-Bridge) turn's up with a problematic proposition, vamooses in a wake of chaos, then disappears. Indy hotfoots it halfway around the world to catch Helena and young sidekick (Ethann Isidore) off-guard. Consequently, they are chasing after or being chased by Nazis (Mads Mikkelsen, Boyd Holbrook, Oliver Richters and Mark Killeen) and/or U.S. government agents (Shaunette Renée Wilson, Thomas Kretschmann), call on old pals Sallah (John Rhys-Davies) and Renaldo (Antonio Banderas), and travel backwards to arrive where they started (for an idly conceived solution).
The sterling cast is delightful, particularly veterans Ford (did many of his stunts), Rhys-Davies and Karen Allen's quintessence performances. Cinematographer Phedon Papamichael shot on a world stage from Scotland to Greece to Morocco. Ford and Mikkelsen are de-aged for the opening sequence. Editors Michael McCusker, Andrew Buckland, and Dirk Westervelt's pacing is cumbersome, blasé, and John Williams' fifth score suffers from using the Indiana Jones theme rift as an afterthought throughout.
Raiders of the Lost Ark—chosen in 1999 for preservation in the United States Library of Congress's National Film Registry—initiated audiences to "Indiana" Jones. This nostalgic finale is entertaining and fun. (Marinell Haegelin)