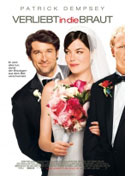 Verliebt in die Braut (Made of Honor)
U.S.A./U.K. 2008
Opening 15 May 2008
Directed by: Paul Weiland
Writing credits: Adam Sztykiel, Deborah Kaplan, Harry Elfont
Principal actors: Patrick Dempsey, Michelle Monaghan, Kevin McKidd, Kadeem Hardison, Chris Messina
Paul Weiland directs Patrick Dempsey (Grey's Anatomy, Enchanted) and Michelle Monaghan (Mission Impossible III, Kiss Kiss Bang Bang) in a romantic comedy, with screenplay by Adam Sztykiel, Deborah Kaplan and Harry Elfont.
Tom (Dempsey) is a wealthy, charming womaniser for whom life appears to be an endless stream of fleeting romances. The one solid anchor in his life is Hannah (Monaghan), his straight-speaking best friend. The two religiously spend Sundays together, so when Hannah's job sends her to Scotland for six weeks, Tom quickly comes to realise how much he misses her; it suddenly dawns on him that she's actually the girl for him. Ready, after all these years, to pop the question when she returns home, our leading man is devastated to find that Hannah has brought back a Scottish fiancé. To make matters worse, the wedding is planned for two weeks later, and Hannah is adamant that she wants Tom to be her maid of honor. Tom accepts, realising that his duties mean spending every possible moment with the bride-to-be – the perfect opportunity to subtly change her mind and win her over...
The storyline of Made of Honor holds no major surprises, but it is charming and humorous. Dempsey and Monaghan work well together, supported by a lively supporting cast that includes Sydney Pollack. A lovely touch is the location move to Scotland, giving the viewer a chance to enjoy some beautiful landscapes, pipers in full regalia and a glimpse at the Highland Games; and even if Eilan Donan Castle is beginning to appear a bit too often in movies, there's no doubt that it is the epitome of your romantic and mysterious Scottish castle.
The movie offers fans of the romantic comedy genre an entertaining cinema experience. (Osanna Vaughn)