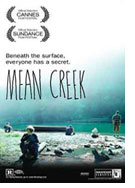 Opening 26 May 2005
Directed by: Jacob Aaron Estes
Writing credits: Jacob Aaron Estes
Principal actors: Rory Culkin, Ryan Kelley, Scott Mechlowicz, Trevor Morgan, Josh Peck
Sam (Rory Culkin) is once again picked on by the school bully, George (Josh Peck). Sam confides in his big brother, Rocky (Trevor Morgan), about the recent incident. Sam expresses his frustration, anger and honestly questions why bullies seem to enjoy torturing others. Sam and Rocky decide that their response should be revenge but only harmless and playful. They think that this is necessary to put George in his place. They really believe that if George is aware of what he is doing, it will cause him to think about it and stop his bad deeds. Rocky rallies his own friends to join in on the prank. They agree to rumble and work together to plot the plan. As the plan takes on a life of intense exhilaration, Sam has forgotten all about his Saturday date with best friend, Millie (Carly Schroeder). In order not to disappoint her, he encourages her to join the gang at the river for a day of fun. However, unbeknownst to Millie, part of this day is payback time for George. This Stand by Me style of narrative begins with a harmless idea to realize a rightful revenge. Of course, harmless pranks never begin with a negative thought of tragedy and in this case it is no different.
This film and its unpredictable trail of events unfold into a narrative that will captivate your full attention. Every aspect of this production is tight. It fits together like hand and glove, and you would not expect this quality of a film from a first time screenplay writer and director. The list of festival awards for this film is long but not surprising, including the Humanitas Award 2004 Sundance Prize.
The latest statistics from the American Medical Association propose that one out of every ten students (in public schools) has been the victim of violent bullying, and that up to 15% of all American teens have participated in the act of bullying someone else. This issue of bullying is growing in many social circles and is becoming more extreme and more violent.
Jacob Aaron Estes, Mean Creek writer and director says, "Like many people, I have come face-to-face with all kinds of bullies throughout my life. The good news is that one of these bullies changed my life, inspiring the heart of the story behind Mean Creek. I wanted to explore the bully as a human being rather than just the typical bad guy." Estes takes this serious social issue and effectively creates an environment where the modern day teen exemplifies the use of integrity to make hard core choices that will affect the rest of his life. Hmm! Does any of this have a bearing on what kind of parenting skills under which they grew up? I believe so! In my opinion, without the proper guidance and communication with older or wiser people that have encountered crisis in life, one is pretty stuck on oneself. Questions like, "How do I forgive someone who has wronged me?" or "How do I forgive myself for the wrong I have done?" when one is consumed with only caring about himself, does not deal appropriately with sound moral judgment. In this story, Estes manages to focus on what is really important in the life of the teens in the film, relates it to teens of today and connects it moral decency. An awesome job well done! (Karen Pecota)