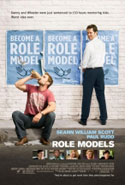 Opening 26 Feb 2009
Directed by: David Wain
Writing credits: Paul Rudd, David Wain, Ken Marino, Timothy Dowling, W. Blake Herron
Principal actors: Seann William Scott, Paul Rudd, Christopher Mintz-Plasse, Bobb'e J. Thompson, Elizabeth Banks
David Wain directs Paul Rudd (Clueless) and Seann William Scott (American Pie) in a wacky comedy including youngsters Christopher Mintz-Plasse and Bobb'e J. Thompson.
Danny (Rudd) and Wheeler (Scott) are two disparate characters who work together promoting an energy drink at high schools: Wheeler, the party-lover of the two, quite enjoys the job, while Danny, the neurotic, despises it. One day, a disastrous episode with a tow truck lands them in court and they're ordered to do 150 hours of social work, assigned specifically to a youth mentoring program. Danny finds himself as companion to Augie (Mintz-Plasse), a fanatic, role-playing 16-year-old, whose idea of fun is to head to the park dressed up as a mediaeval squire to enact battles and adventures with other enthusiasts. Wheeler finds himself in charge of Ronnie, a precocious, loud-mouthed, fifth grader.
Despite the initial reluctance on the part of all four characters, the unlikely partners gradually develop workable relationships, though it's unclear who is benefiting more, the kids or the adults. What is sure is that the time spent together is fraught with comedic adventures and mishaps, culminating in a historic, victorious battle for all involved.
Role Models has plenty of good laughs, providing the moviegoer with an entertaining hour and a half. It is clear, however, that the film is directed towards an adult audience, despite having one pretty young actor among the cast; and, try as I might, I couldn't stop feeling somewhat disturbed by the continuous profanities coming out of Bobb'e J. Thompson's mouth. I wonder if that could have been avoided and still produced a fun movie. It would certainly have opened it up to a much wider audience. (Osanna Vaughn)