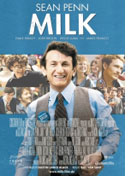 Opening 19 Feb 2009
Directed by: Gus Van Sant
Writing credits: Dustin Lance Black
Principal actors: Sean Penn, Emile Hirsch, Josh Brolin, Diego Luna, James Franco
Gus Van Sant (Good Will Hunting, Finding Forrester) directs Sean Penn (Mystic River, All the King's Men) and an excellent ensemble cast, in a film written by Dustin Lance Black and based on the truth life story of Harvey Milk.
Harvey Milk (Penn) and his companion Scott Smith (James Franco) arrive in San Francisco in 1972, where they open a photo store in the middle of the Castro district. Despite the neighbourhood's conservative nature, Castro Camera soon becomes a hang-out and safe-house for homosexuals, many of whom are fleeing intolerant home or work situations. Harvey's concern for his friends, as well as other marginalised people, takes him into politics. After campaigning three times, he finally becomes a member of the San Francisco Supervisory Board, the first ever openly gay person elected to public office in California. His untiring commitment to the cause costs Harvey his relationship with Scott, but he cannot give up. When Proposition 6 – pushing for the removal of homosexual teachers from California schools – is put to the vote, Harvey is at the forefront fighting against it. His work is supported by Mayor George Moscone (Victor Garber) and constantly challenged by one of his supervisor colleagues, Dan White (Josh Brolin), while his private life takes a downward skid, culminating in the suicide of his new lover Jack Lira (Diego Luna).
Despite death threats and aggressive opposition from the Christian right, Milk's work is rewarded with the successful rejection of Proposition 6; but Harvey will not live to savour victory for long...
Milk does a convincing job of capturing one aspect of life in San Francisco in the seventies. Sean Penn and his colleagues give excellent performances and full credibility to their roles in this dramatic and, ultimately, tragic true life tale. (Osanna Vaughn)