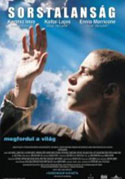 Fateless - Roman eines Schicksallosen (Fateless, Sorstalanság)
Hungary 2005
Opening 2 Jun 2005
Directed by: Lajos Koltai
Writing credits: Imre Kertész
Principal actors: Marcell Nagy, Béla Dóra, Bálint Péntek, Áron Dimény, Péter Fancsikai
With Fateless, adapted from his novel of the same name, Nobel Prize winner Imre Kertész and first-time director Lajos Koltai bring us a film which looks at the Holocaust from a new perspective, that of a fourteen-year-old boy: György Koves, hauntingly portrayed by Marcell Nagy in his first film, who survives the worst horrors of the Nazi concentration camps, uncomprehendingly and only by chance. The director and author deliberately leave the larger story unexplained; they show only what György sees and experiences. From that fish-eye view, much remains as unclear to the audience as it was to the boy.
The film begins in Budapest in 1944. György's father is (inexplicably) singled out from his family and Jewish neighbors for deportation to a "work camp". György, who is now forced to leave school and wear a yellow star, is assigned a few weeks later to work in a factory outside Budapest, a location he must reach by bus. One day a Hungarian policeman along the route pulls anyone wearing a yellow star from the buses. György is herded with the others onto a train which takes him first to Auschwitz. There he is sent to the work camp instead of being gassed, the fate of many of those with him. Auschwitz is followed by Buchenwald and then Zeitz. The scenes of György's devastating experiences, the bulk of the film, are vivid and heart-breaking.
After Zeitz is liberated in 1945 by the Americans, György, who has survived just barely, is disoriented and unable to communicate his experiences. In a bizarre way he feels almost homesick for the camps. (Adele Riepe)


Second Opinion

By director Lajos Koltai, Fateless opened the Berlinale this year by replacing the American film Heights, which was disqualified from the competition since Glenn Close could not make it to the festival. Fateless takes place in Budapest during WWII where the Jewish family Köves live. Fourteen-year-old György (Marcell Nagy) and family say goodbye to his father, who's leaving for a work camp outside of Hungary. The family discusses the good fortune that young György has received permission to work in a brick factory outside the city since they need money. On the way to work, he is pulled from the bus along with other Jewish passengers. At this point, György makes some friends. They try to stay together, but this isn't possible since they are then separated by age; all those over sixteen go to the work camp and the young ones go directly to Auschwitz. György, who is tall, says he is sixteen and passes. He also hopes that he will end up in the camp of his father.
From that point on, the film is excruciatingly dismal where people work, starve, are tortured and die. It seems to go on for hours. The film projects a gritty grey feeling that hangs with you like a black cloud over your head. György is also a character that shows no sign of determination, a willingness to live, or even hope. Toward the end of the movie you actually believe that he has resolved to die. This film, along with the film Dallas Pashamende about gypsies living in a garbage dump, gave me nightmares at the Berlinale, where I woke up screaming! If you have tough nerves this film is for you; if you are sensitive visually or emotionally, this is not for you! (Shelly Schoeneshoefer)