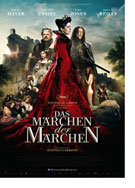 Das Märchen der Märchen (Tale of Tales, Il racconto dei racconti)
Italy/France/U.K. 2015
Opening 27 Aug 2015
Directed by: Matteo Garrone
Writing credits: Giambattista Basile, Edoardo Albinati, Ugo Chiti, Matteo Garrone, Massimo Gaudioso
Principal actors: Salma Hayek, Vincent Cassel, Toby Jones, John C. Reilly, Shirley Henderson
In his first English-language film, Italian director Matteo Garrone (Gomorrah) delves into fantasy, horror and romance. Giambattista Basile, a 1600 Neapolitan poet, courtier, and fairy tale collector, inspired many, including the Brothers Grimm and Hans Christian Andersen. Loosely basing the screenplay on Basile's collection Pentamerone, it interlaces three stories containing royalty, a witch, creature, ogre, and mystery and magic.
Bookended by traveling street-court performers, the King of Longtrellis' (John C. Reilly) queen (Salma Hayek) is consumed with begetting a child. Hence, they ignore a necromancer's (Franco Pistoni) warning that accompanies his proposition. An heir's (Christian Lees) birth and its unforeseen signification (Jonah Lees) becomes the queen's scourge sixteen years later as she tries to "separate what you cannot". Whereas, after hearing a commoner's (Hayley Carmichael) sweetly trilling voice, Strongcliff's debaucher king (Vincent Cassel) "burns with desire". But, there are complications. With her sister's (ShirleyHenderson) help, their guise's convergence involves a witch (Kathryn Hunter), blessing, and curse. For the King of Highhills (Toby Jones), misplaced affection eventually sends him to his knees, and his daughter (Bebe Cave) to an ogre's (Guillaume Delaunay) domain.
Folkloric fantasy stories were for adults, then children: the Brothers Grimm first associated and adapted older fairytales for children. This film is strictly for adults. Obsessive behavior and deceit rules, cruelties are uniquely truculent, self-preservation and self-interest dominates, with kindnesses flaunted; even the macabre scenes trigger sadness. Garrone's painter background surfaces in sumptuous visuals, especially in costumes (Massimo Cantini Parrini), sets (Alessia Anfuso), production design (Dimitri Capuani), art direction (Gianpaolo Rifino supervising), and cinematography (Peter Suschitzky shot entirely on location in Italy). Evident is the inspiration of Francisco Goya's painting Caprichos. These, plus Alexandre Desplat's embracive music, cannot conceal editing (Marco Spoletini) inconsistencies that occur in the tales' introduction, transitions, and development. Still, it satisfyingly absorbs, with allusions to current popular culture trends prompting interesting food-for-thought. (Marinell Haegelin)


Second Opinion

The film Tale of Tales is based on a seventeenth-century collection of fairy tales written by Italian poet and storyteller Giambattista Basile. Director Matteo Garrone and his team of screenwriters have selected three tales out of Basile's collection of over fifty and interwoven these stories into a 122-minute feature film.
Giambattista Basile is recognized as the "grandfather of printed fairy tales," tales initially told and retold by generations of people prior to Basile's recording (and embellishment) of them. Charles Perrault and the Grimm Brothers have stated that many of their ideas came from Basile's collection and as time went by these stories were modified into their own tales. Also, remember that early "fairy tales" were stories more for adults than children. These stories often had lessons to be learned (with a moral or ethical outcome). As seen in this film, these tales never shy away from gruesome, violent and often sexual content. Garrone makes his first English-language debut with his fantasy film. The various Italian film locations as well as creatively original costumes and sets add an additional layer of enjoyment to the triad of tales told in Tale of Tales. It is an adult film, which leaves lots of opportunity for discussion as you have your after-theater coffee. (Abby Myers)


Third Opinion

The Brothers Grimm may have cornered the market in telling fairy tales but a Neapolitan by the name of Gianbattista Basile appears to have been writing them a century earlier.
Director Matteo Garrone has decided that it is time to showcase his fellow countryman's work and he does so brilliantly in Tale of Tales. Garrone has made a movie for adults rather than children based on three of Basile's fairy stories. He has dressed his actors in ravishing costumes, set the stories in gorgeous castles and provided a sound track of wonderful medieval music. Apart from being a feast for the senses all this successfully adds to the feeling of make believe. This movie is fabulous in both senses of the word and will keep your full attention for every one of its 125 minutes.
Belief is suspended as the three preposterous fairy tales unfold. The king and queen of Longtellis are desperate for an heir and will do anything to procure one. The king of Strongcliff is infatuated by a singer's beautiful voice and is sure that she must be as lovely as the song she sings. The king of Highhill secretly nurtures a flea which grows and grows and finally plays a part in the foolish wager he invents when his daughter asks for a suiter.
Add an enchanted forest, strange and grotesque monsters and people who do strange and grotesque things, blood curdling and bloodthirsty scenes shot through with a strain of eroticism and you have an unusual, clever, original and unforgettable movie. (Jenny Mather)