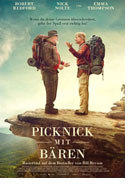 Picknick mit Bären (A Walk in the Woods)
U.S.A. 2015
Opening 22 Oct 2015
Directed by: Ken Kwapis
Writing credits: Rick Kerb, Bill Holderman, Bill Bryson, Michael Arndt
Principal actors: Robert Redford, Nick Nolte, Emma Thompson, Mary Steenburgen, Nick Offerman
Bill (Redford) insists there will be no more books, even though traveling is in his blood. After attending a friend's funeral, Bill takes a walk and happens on an Appalachian Trail signpost: south, Georgia and north, neighboring Maine; the total length covers approximately 3,500 km (2,200 miles). However, Cathy (Thompson) is not buying her husband's "back to nature – push myself" spiel; she finally relents once Bill agrees to take someone along. Hence it transpires that Katz (Nolte) and Bryson, after a 40-year hiatus, make the trip of their lives. Re-bonding as they hike, encounters with two-legged critters – Mary Ellen (Schaal), Jeannie (Steenburgen), two younger hikers (Andrew Vogel, Derek Krantz) – season their new adventures. Katz's honesty and Bryson's steadiness help navigate the path through the woods and their past, exploring themselves.
With Bill Bryson's book A Walk in the Woods: Rediscovering America on the Appalachian Trail as a compass, Michael Arndt and Bill Holderman fashion a delightful screenplay, admitting to poetic license. Director Ken Kwapis firmly guides this comedy biopic in capturing Bryson's 1998 memoir. The film is saturated with believable scenes and dialogue that the award-winners, Redford – inquisitive and probing, Nolte – subtly laconic, and Thompson – loving navigator, deliver with poise and the talented cast kindle. Nathan Larson's music, and John Bailey's cinematography splendidly encompassing breathtaking vistas and characters' emotional stances minimizes some obvious stage sets. Julie Garces and Carol Littleton edit smartly. The ridiculous German film title, from the book's German naming, incorrectly describes the film. Laughter is said to improve health, so take a hike through keen perceptions of lives well lived. (Marinell Haegelin)


Second Opinion

The famous real-life travel writer, Bill Bryson, celebrates his 1998 travel memoir, A Walk in the Woods, with a film debut on the silver screen from Broad Green Pictures. It's Bryson's first book to be transformed into a feature length movie, thanks to the help of screenwriters, Rick Kerb and Bill Holderman.
Film director Ken Kwapis takes portions of Bryson's celebrated memoir as the basis for his latest feature film, using the same name of the book, A Walk in the Woods. Kwapis directs an all-star cast and gives credence to Bryson's experience when he connects to his American roots by walking the Appalachian Trail.
Bryson eloquently weaves detail s of history into every personal adventure he records. As a masterful literary artist and a genius storyteller, Bryson keeps his fan-base engaged and left wanting more from his numerous tales of true adventure. With his memoir A Walk in the Woods whether comedic or not, Bryson always has something of value to share about life, things worth remembering. Things that make one smile. And, often laugh whole-heartedly!
Synopsis:
Bill Bryson (Robert Redford), an American ex-patriot, lives in England with his beautiful British wife, Catherine (Emma Thompson). For the past twenty years, the two have raised their family in the idyllic countryside of Great Britain. Though living a life of fulfillment, Bryson longs to get back his roots. Bryson convinces his wife that a move to reconnect with his homeland would be of value to both of them, as it would to their children. In agreement, the Bill Bryson family relocates to the United States.
The first step toward Bill's reconnection is to get out into the wild and commune with nature--to walk the renowned Appalachian Trail. To discover what lies along 2,200 miles of America's most spectacular and rugged countryside from Georgia to Maine.
Anxious to find a few buddies to journey with him, Bryson contacts several of his childhood friends by special invitation to join the adventure. One by one Bryson's offer is declined. He decides to take the trek solo. Not the ideal situation but he comes to terms with it.
Bryson, while out on a practice hike near his home, gets a call from his wife mentioning that a person named Stephen Katz (Nick Nolte) heard about the trek and wants to join him. Stephan Katz was not invited by Bryson. And, rightly so. The two had a falling out thirty years prior and never expected to see each other again for as long as they lived. Bryson told Catherine that he could never walk the trail with Katz. They were too different and had nothing more in common. Bryson felt it would even be hard to be cordial to one another much less trek the famed trail together for fun. Catherine suggested he give Katz a chance. She would feel more comfortable if her husband were not alone in the wild for months on end. Bryson reluctantly agrees to reconnect with Katz to take A Walk in the Woods.
When the two first meet to start their journey, Bryson tells Catherine that they will never make it. Bryson is fit, healthy and strong. Katz is simply the opposite. Nor in his prime due to the amount of junk-food and ale he consumes. He's a mess. He looks exhausted before the men have walked from driveway into Bryson's house. Worried that the tranquility Bryson was looking forward to enjoying would be all but lost with a needy trekking partner. Bryson is disappointed by the sight of Katz.
As the two begin to share their life stories, Bryson realizes that Katz has not had a good life since their falling out and feels like the adventure has a deeper meaning for his old friend. He and Katz make a fresh start with their relationship, and together they pursue an adventure worth writing about. Comedic, horrific and rewarding. Bryson is bent on not writing about their trek, while Katz tells him that someday he will regret it if he chooses not to turn their adventure into a book. Katz convinced that the experiences celebrated by the unlikely pair will bring Bryson great success. And, so it does. So it does! Recalling years later the number of times he told Katz, "This will not be in the book because I am not writing a book about this..." With a smile and smirk, Bryson reminisces and pens their walk in the woods. (Karen Pecota)


Third Opinion

One day, while out for a walk in the woods near his home in New Hampshire, Bill Bryson decided to walk the Appalachian Trail. The trail stretches for two thousand and one hundred and eighty miles and takes about five months to complete so you can understand his wife's and grown children's consternation when they heard about this foolhardy plan. Nothing daunted, Bill telephoned past and present friends in the hope of finding a companion for the adventure. Nobody took up the challenge until a former friend phoned and asked for details. Bill was embarrassed because Stephen hadn't been invited and had heard about the trip secondhand from somebody else. Still, an irritating ex school friend is better than nobody at all and Bill accepted Stephen's offer to accompany him on the trail.
How Bill Bryson came to be played by Robert Redford in the film is a mystery. Mr. Redford is much too old for the part. Nick Nolte, who plays Stephen Katz is also miscast. A heavily overweight alcoholic with two knee replacements surely isn't a suitable candidate for anything more than a gentle stroll. What must the real Bill Bryson and Stephen Katz think of their portrayal in the movie?
Despite the miscasting this is a gentle, amusing and enjoyable movie. The pair are waved off by Bill's wife Catherine (Emma Thompson) and; weighed down by all their camping paraphernalia, they fly to Georgia to begin the long trek through nine states to the end of the trail in Maine. Shortly after setting off they are joined by the irritating Bore Mary Ellen (Kristen Schaal) and feel ashamed when they contrived to leave her behind. Later romance could be in the air for Bill when he and Steven treat themselves to the luxury of a night in a motel run by Jeannie (Mary Steenburgen.) Romance is in the air again, in a laundromat, of all places, when Beulah (Gaia Wise) requests Stephen's assistance with untangling the contents of her washing machine.
As their journey progresses, the men reminisce about their time together in Europe when they were very young. Stephen reminds Bill that for all his worldly successes he is still just a boy from Iowa. Bill, in turn, chides Stephen about his inertia and lack of enthusiasm in the world around him. As they trundle along, Bill marvels at nature's beauty and always has a wealth of facts about the trees and the mountains they are crossing to pass on to his friend. Their old geezer banter is amusing and they can always muster a wry and funny comment when faced with disaster.
The movie could easily be called America the Beautiful as its true star is the Appalachian Way. Every step of the journey is filled with breathtaking scenery and sometimes the two men gaze at it all in silent wonder. Looking at the tree covered mountains stretching ahead for as far as the eye can see and marveling at the world's natural beauty is what makes this movie worthwhile. (Jenny Mather)