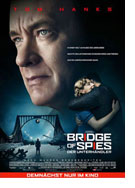 Bridge of Spies - Der Unterhändler (Bridge of Spies)
U.S.A. 2015
Opening 26 Nov 2015
Directed by: Steven Spielberg
Writing credits: Matt Charman, Ethan Coen, Joel Coen
Principal actors: Tom Hanks, Mark Rylance, Alan Alda, Austin Stowell, Amy Ryan
In 1960, an unassuming insurance lawyer from Brooklyn finds himself in the midst of the Cold War. The CIA captures a KGB intelligence agent, Rudolph Abel (Mark Rylance, excellent), and James Donavan (a brilliant Tom Hanks) is unexpectedly called upon to defend the man. Defending the taciturn Abel is not the end of Donavan's complicated assignment. In 1962 Francis Gary Powers (Austin Stowell), piloting the top-secret U2 plane, is shot down by the Russians, captured alive and, the film assumes, tortured and sentenced to 10 years in a Russian prison. The CIA asks Donavan to arrange an exchange between Abel and Powers, as a private citizen, neither backed nor protected by the government. If Donavan can bring it off, the exchange is to take place on the Glienike Bridge in East Germany. And therein lies the tale!
The film, a true story, is a historic thriller partly based on Donavan's own book, superbly directed by Steven Spielberg. An excellent and important film of nuance and suspense. (Adele Riepe)


Second Opinion

The American Lawyer, James Donovan (Tom Hanks) is remembered by many who grew up in the 1950s during the early stages of the Cold War. He was a famous insurance lawyer that the CIA (Central Intelligence Agency) asked to defend a captured Russian Spy, Rudolf Abel (Mark Rylance) held in the U.S. "Everyone deserves a defense...every person matters," says James Donovan.
Going one step further, the CIA asked him to negotiate a trade with the Soviet Union, Abel for two Americans: Air Force pilot Francis Gary Powers (Austin Stowell) and graduate student Frederic Pryor (Will Rogers). The two were thought to be spies whom the Russians held captive. Donovan was ridiculed and he put his family in danger for taking on the assignment but he let his conscience be his guide."We are committed to the principles of justice...We play by the rules...We call it the Constitution, and that's what makes us Americans." He was an ethics man and held his ground.
Donovan was an ordinary man asked to do extraordinary things and lived to tell the world. Filmmaker Steven Spielberg teams up with DreamWorks Pictures, Touchstone Pictures and Fox 2000 Pictures, to present Donovan's incredible story in Bridge of Spies - Donovan's unusual encounter with a Russian Spy.
Spielberg is right to participate in Donovan's narrative. He is a history buff and has a detailed knowledge of the Cold War era. Donovan's story is special to Spielberg because of a personal connection. Spielberg vividly remembers his father telling him, as a child, of the deep-rooted feelings of hostility and mistrust between the U.S. and Soviet Union. "My father had gone to Russia during the Cold War with three other colleagues with General Electric. They were standing in line to view Power's flight suit, helmet and remains of the American U-2 spy plane on display for the Russians to see." Spielberg continues, "About an hour away from the front of the line, a couple of Russian military officials approached my dad. They asked for the passports of the men, saw they were Americans and took them to the front of the line for no convenience to them but to make a scene. As one of the officers pointed to the U-2, then to my dad and his colleagues, he said angrily several times before handing back their passports, 'Look what your country is doing to us.' " Spielberg recalls, "I never forgot the story," and adds, "and because of that I never forgot what happened to Francis Gary Powers."
Synopsis:In the early 1950s, FBI (Federal Bureau of Intelligence) agents arrest a known Soviet agent, Rudolf Abel (Mark Rylance) who is living in New York. Accused of sending encrypted messages to Russia, Abel denies the charges. In questioning Abel, the FBI is unable to get him to cooperate in exchange for a one-way ticket back to mother Russia. Abel is put in federal prison until his trial.
The tension between the U.S. and the U.S.S.R. escalates during the early part of the Cold War era. The situation with Abel only makes matters worse. The U.S. has to be very careful how they handle the Abel situation and seeks to find an independent lawyer to take on Abel's defense. The legal community's best skilled negotiator is an insurance attorney, living in Brooklyn, known as James Donovan. The CIA insists that Donovan be Abel's defense lawyer. Donovan is reluctant to take on the case because he is inexperienced in the nature and magnitude of the case, his family would suffer for his becoming a high-profile public figure. It could potentially put their lives at risk. He contemplates long and hard his options. Donovan committed to the principles of justice, the protection of basic human rights and the desire to see that Abel receives a fair trial, agrees to represent the Russian.
An unlikely friendship forms between Donovan and Abel while preparing their defense strategy. Admiration grows in both men as they see a strength, loyalty, respect and understanding of each other's story. Donovan passionately portrayed Abel as a good soldier following with conviction the assignment given by his countrymen. Donovan's defense was futile. Abel goes to prison in the U.S., favorable to popular demand.
In the meantime, an American U-2 spy plane is shot down over Russian airspace. Air Force pilot Francis Gary Powers is captured and quickly convicted by the Russian courts to ten years of prison in the U.S.S.R. This scenario happens at the same time the Berlin Wall is quickly being erected. An American student detained in East Berlin for trying to get to West Berlin before the wall was complete was charged with espionage when his doctoral thesis is misinterpreted as secret government documents.
Donovan finds himself in the clutches of the CIA one more time. The Soviets are afraid of what information Abel will share with the U.S. government; likewise, the U.S. just as concerned with their man Powers under the right coercion. Donovan is commissioned to be the negotiator of a secret spy exchange between the two head strong countries. This annoys Donovan for infringing on his privacy but gladly takes on the dangerous assignment. While negotiating is his primary calling Donovan finds that the Soviets don't play by the rules. (Karen Pecota)


Third Opinion

A master storyteller, Steven Spielberg's films entertain, and educate: Jaws (1975), E.T. the Extra-Terrestrial (1982), The Color Purple (1985), Schindler's List (1995), Catch Me If You Can (2002), to name a few. In Bridge of Spies, the aforementioned attributes are exemplified, together with extolling personal civil and moral courage. Mr. Spielberg's magnifying glass is impartial to any particular country, since humans' penchant for making the same mistakes repeats throughout millenniums.
Based on true events beginning in 1957 at the height of the Cold War, a Soviet spy is arrested in Brooklyn, New York. For the sake of appearances, the US government arranges for a trial, and a non-governmental legal representative for Colonel Abel (Rylance). James B. Donovan (Hanks) finally agrees to take the case; upon their meeting, Abel agrees. Donovan is a cool head in a paranoid, indoctrinated society. Consequently, the Central Intelligence Agency sends Agent Hoffman (Scott Shepherd) to request Donovan's assistance. They want Donovan, as a civilian lawyer, to negotiate a spy exchange. An American U-2 pilot, Francis Gary Powers (Austin Stowell), is being held for espionage in the Soviet Union. Inadvertently Jim learns a graduate student (Will Rogers) is being held in East Berlin. To the CIA's chagrin, Donovan's moral compass dictates his moves, and counter-moves, while bargaining with the Russian (Konstantin Frolov) and East German (Burghart Klaußner). However, the affinity and respect between like-mined people determines the outcome on the Glienicke Bridge that cold February morning in 1962.
An exceptional cast embodies the authentic screenplay from Matt Charman and the Cohen brothers'. Recalling stories his father told him about the Cold War when a boy, director Spielberg imbues this historical drama with his characteristic empathy and confidence. Many are familiar collaborators with Spielberg: cinematographer Janusz Kaminski, composer Thomas Newman, editor Michael Kahn, and Ellen Lewis casting. Shooting in the USA—Brooklyn, New York City, NY—and Europe— Wroclaw, Poland, and Potsdam and Berlin, Germany—replicates distinct tonal value. Rena DeAngelo and Bernhard Henrich's set decoration enhances this with their attention to detail. At the end of the film, black cards inform audiences just how much this tenacious, unsung hero James B. Donovan did for humankind. (Marinell Haegelin)