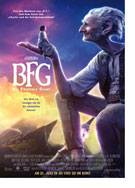 BFG: Big Friendly Giant (The BFG)
U.S.A. 2016
Opening 21 Jul 2016
Directed by: Steven Spielberg
Writing credits: Melissa Mathison, Roald Dahl, Christopher Abbott
Principal actors: Mark Rylance, Ruby Barnhill, Jemaine Clement, Bill Hader, Adam Godley
Published in 1982, this bedtime story was author Roald Dahl's favorite. The BFG explores the lonely orphan Sophie's (Barnhill) – named after his granddaughter – uncommon, transformative friendship with a big, friendly Giant (Rylance): their chemistry is captivating. It coincided with Steven Spielberg's movie E.T.: The Extra-Terrestrial release. Dahl and Spielberg's knack for capturing children and adults imagination and attention is enormous. Melissa Mathison wrote both films' screenplays.
Nine burly, cannybully giants – 52-feet to 39-feet (15.9-meter to 11.8-meter) – reside in bleak Giant Country: Fleshlumpeater (Clement) the dumb bully, the brainy Bloodbootler (Hader), skinny sluggish Manhugger (Godley), peacekeeping Gizzardgulper (Gibbs), young troublemaking Bonecruncher (Adamthwaite), hunt-loving Meatdripper (Moniz de Sa) and best friend Childchewer (Holmes), stylish Maidmaster (Ólafsson) and limping Butcherboy (Bacon).
Their favorite pastimes are hunting Human Bean chidlers and bullying their runty brother. Only 24-feet (7.3-meter), conversely big-eared BFG captures dreams he shares with chidlers on earth (a camouflage pro) and eats unsavory snozzcumbers. Once captured, Sophie's terror gives way to spunkiness that turns to compassion. One precocious, one a Gobblefunk chatterer, the two isolated souls form a formidable friendship. When the murdeful brothers catch whiff of Sophie, their camaraderie lead them to London, and Queen Victoria (Wilton). But, will the Queen ally with a youngster and a gigantic?
Steven Spielberg's films (director, writer, producer) have universal themes centered on history, and families. Tangibly realistic, his storytelling entwines innocence, enchantment, fear, and charm. Likewise, Spielberg champions new technology while advocating traditional filmmaking. The BFG's production is hybrid: it combines both live-action and performance-capture techniques. Past collaborators contribute to its unique guise: Joanna Johnston's (Lincoln, War Horse) inventive costumes, especially the giants; Rick Carter's (Forrest Gump) three different-sized beautiful, frightening, imaginative sets and props; Janusz Kaminski's (Bridge of Spies, Saving Private Ryan) rich camerawork and magical lighting; Michael Kahn's (Saving Private Ryan, Schindler's List) poised editing, and John Williams' (War Horse, Jurassic Park) music – personal opinion is it does not quite meet the film's excellence.
This ten-year-old may believe the Bogeyman comes out to steal people at the bewitching hour, but pay no attention. Magical and magnanimous, imbued with timelessness, The BFG is a must-see for children and the inquisitive, young-at-heart. (Marinell Haegelin)


Second Opinion

In 1982 Roald Dahl wrote the novel The BFG (The Big Friendly Giant), which takes us into an imaginary land of mystery and dreams where man eating giants exist and it is a scary place for orphans who stay up too late at night. It is a tale where the BFG meets the orphan Sophie and this unlikely pair goes on an adventure and tries to make the world a better place. At the same time Spielberg wrote and directed "E.T., The Extra-Terrestrial." Here a small alien was accidently forgotten on Earth and wanted to go home. He, too, befriends a boy who tries to help him before he becomes a scientific project. I still can remember lifting my hand in an ET kind of way and phoning home. These two storytellers won our hearts with tales we most likely won't forget.
Spielberg now takes the BFG, a much loved tale and brings it to the screen where we can climb into our cinema seat and find ourselves in the land of dreams where, using our imaginations, we believe anything can happen. There were two strong and wonderful performances by both Mark Rylance (BFG) and Ruby Barnhill (Sophie) to pull off the contact between the human and the virtual characters in order to establish a believable storyline. What also is interesting to know is that in the 1980s Mark Rylance turn down Spielberg's offers to do two films with him, but this is just the beginning of a series of films the two plan to do together. The first was Bridge of Spies where Rylance won an Oscar, The BFG where he had the advantage of trying out big ears, and coming soon is a science fiction film, and a 19th century tale about a Jewish boy which are currently being made. Spielberg couldn't have picked a more timely moment to make this film. As the darkness falls on England with its decision to leave the EU, we nervously watch and wonder if the BFG and Sophie the orphan, who is intelligent head strong, will be able to help her majesty the Queen (Penelope Wilton) save England from the man-eating giants. Using Dahl's imaginary language Gobblefunk where we hear worlds like cannybully, delumptious phizzwizards and whizzpopper along with special magical lighting effects, Spielberg has come up with a recipe of success.
It is also interesting to know that there was an official The BFG commemorative stamp in 1993 from the Royal Mail in the UK clearly showing that giants have been seen all around the world in one form or another. (Shelly Schoeneshoefer)


Second Opinion

This year of 2016 story lovers around the world specifically celebrate the life of British author Roald Dahl. He would have been one hundred years old. He lived to be seventy-four years of age and passed away in 1990. In particular, celebrating his life achievements are storytelling icons, Walt Disney Studios and director/producer, Steven Spielberg. They bring to the silver screen Dahl's favorite imaginative tale, called The BFG (Big Friendly Giant). The collaboration would not have been complete without the expertise of screenwriter, Melissa Mathison, known for her work in Spielberg's film about an extraordinary friendship with an extra-terrestrial in E.T.: The Extra-Terrestrial. The similarities Dahl, Disney and Spielberg share in their concept of storytelling are remarkable. Each combines the fantastical with the frightening sharing timeless tales that appeal to multi-generational audiences.
Dahl was forever hesitant to write down his stories because his imaginative telling was purposefully saved for his children and grand-children. His storytelling was reserved for family. It was his draw for closeness with his family. His delight was passing down thru generations his creative love of sharing information that required listening and further conversation. Over time when his sharing of imaginative tales became known by others, he was encouraged to write down several beloved stories. The BFG was always Dahl's favorite and was first published in 1982. His main female character in BFG, is named after his grand-daughter, Sophie. As one of the world's most successful storytellers Dahl understood the inner lives of children. He had a knack for creating characters the children could relate to and storylines which kept them involved.
Producer Frank Marshall says, "Dahl's stories are not just happy-go-lucky fantasies. There's a lot of humor to them, but there's also a little bit of a dark side. He walks on the edge. They're a little scary, and I think that's what appeals to people." Spielberg agrees, "It is very brave of him [Dahl] to introduce that combination of darkness and light which was so much of Walt Disney's signature in a lot of his earlier works: Dumbo, Fantasia, Snow White, and Cinderella." He continues, "Being able to be scary and redemptive at the same time, and teach a lesson, an enduring lesson, to everyone was a wonderful thing for Dahl to have done." Spielberg has been a fan of Dahl for years and often read Dahl's tales to his own kids when they were young. He adds, "The BFG is a story about friendship. It's a story about loyalty and protecting your friends." These values were important for Spielberg to pass on to his own children told from a different but a reliable source.
Synopsis:
A ten-year-old precocious orphan girl, Sophie (Ruby Barnhill) takes on the unofficial role of the-nightwatch-girl at her London orphanage. Sophie enjoys the mysteries of night and tends to conveniently disobey one of Mrs. Clonker's many rules while all are fast asleep dreaming their dreams. The night-time rule has five parts: 1) Don't climb out of bed. 2) Don't put on your glasses. 3) Don't open the curtains. 4) Don't open the window. 5) Don't go out on the balcony to see what the world looks like in the moonlit silence. Mrs. Clonker believes that mid-night is the bewitching hour where strange and scary things happen to children.
This one particular evening, Sophie's nightly ritual of rule breaking has grave consequences. Sophie's night-watch-girl volunteerism, while on the balcony, enjoys scolding the local drunks who can't find their way home. While doing so she sees something strange lurking in the shadows near the orphanage cobble-stone street. Not afraid of the dark, nor anything at all for that matter, Sophie calls out to who is lurking in the shadow to show oneself. Silence. Abruptly a huge something appears in front of the balcony. It's a real live giant! Sophie has all eyes on its activity and is annoyed when the Giant quickly snatches her from the landing and will not let her go. The giant runs through the streets in the darkness so as to not be seen. Sophie pleads for her life not knowing if she will be eaten by the giant. He ignores her plea and carries her away with him to Giant Country. He tells her he cannot let her go because his life would be in danger if she told anyone that she saw him. A giant! His dream catching would be over. Promising she would not tell he could not trust her.
At 24-feet-tall the giant (Mark Rylance) is the smallest of the giants in Giant Country, but also the kindest. He speaks Gobblefunk, reads "Nicholas Nickleby" by Dahl's Chickens and catches dreams which he shares with children as they sleep. Thus his escapades in the middle of the night in London. He is a vegetable-eating, peaceful giant. His brothers are not so kind. They eat children known to them as Human Beans. His brothers only aim to harm humans, giving reason for the 24-feet-tall giant to rid the country of evil.
Determined to escape Giant Country, Sophie realizes she cannot without the help of her giant because the terrain is too dangerous to travel and because of the other giants who eat children. In order to return to London, Sophie must learn to understand the ways of her capture and win his heart in hope that he will do what is right--return her to the orphanage.
The giant makes the first move toward endearment and protects Sophie from his human-eating brothers. Thankful of his protection, she chooses to call him friend and gives him the name the BFG (The Big Friendly Giant). Sophiem not having known a giant before, has many questions, especially about BFG's occupation as a dream catcher. BFG answers her questions in the most magical and charming way possible. Sophie's extraordinary friendship with BFG takes the two lonely souls on a journey to catch their own dreams: to rid their world of evil and to find the family they always dreamt of being a member. (Karen Pecota)