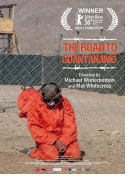 This film by British legendary director Michael Winterbottom with Mat Whitecross uses archive footage, interviews and dramatized scenes to recreate the events surrounding the true story of British Muslim friends who travel to Pakistan for a wedding and end up at the American prison camp in Guantánamo Bay, Cuba. In September 2001, Asif Iqbal from England is instructed by his mother to go to Pakistan and marry the woman that she has chosen for him. He asks three friends, Ruhel Ahmed, Shafiq Rasul and Monir Siddiqui to be his witnesses at the wedding. The four friends, two of whom are teenagers, meet in Karachi where they attend a mosque with Shafiq's cousin Zahid. The imam is organizing a group to go to Afghanistan for humanitarian aide and asks them to come along. They are curious about Afghanistan and agree. After a long, exhausting journey, they arrive in Kandahar coincidentally, and unfortunately, on the first night of bombing by the United States when the U.S. troops begin their "retaliation" against the Taliban for the attacks of September 11.
The friends continue on to Kabul where they become ill and stay to recover. When they are ready to return to Pakistan, they find themselves instead caught under heavy bombardment near Kundun. They are separated from Monir, who is never seen again. Asif, Ruhel and Shafiq are taken captive by the Northern Alliance. After being shifted around different prison camps within Afghanistan, it is discovered they are English so they are turned over to the U.S. military. They thought they would then be sent home to England but instead, they are treated as terrorist traitors and face endless interrogation, torture and solitary confinement finally being incarcerated for over two years at Camp Delta, the U.S. Army prison camp located in Guantánamo Bay, Cuba. Now back in Britain, it is clear that the journey they started together is by no means at an end. Are they all criminals or victims of circumstance? A must see film to join the debate. (Mary Nyiri)





Would you like to receive a list of all the current month's film releases -- with links to reviews by the KinoCritics -- delivered right into your email box? If so, click
here
to subscribe to the
KinoCritics Newsletter
. We'll email it to your inbox at the beginning of every month.