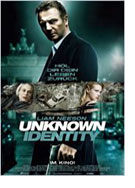 Imagine yourself waking up from a coma only to find out that no one seems to know who you are. That is exactly what happens to Dr. Martin Harris after a taxi ride ends with him unconscious in a river, and the taxi driver alive but nowhere near the accident scene. Harris (Liam Neeson) and his wife Liz (January Jones) arrive in Berlin for a biotechnology conference when things immediately take a turn for the worst. Instead of waking up in a posh hotel with his wife, Dr. Harris wakes up in a hospital bed marked "identity unknown." But, that doesn't ruin things for Liz, she simply takes up with another man. Now, Dr. Harris needs to get his wife back and reaffirm his identity. But, first he needs to find that mysterious taxi driver named Gina (Diane Kruger) to make sense of his life again.
This film will keep you guessing from start to finish. Neeson is on fire in his role as Dr. Harris, and no one could fit better into this character. January Jones is almost robotic as she cuts with precision into the ice princess role of Liz, the anything but adoring wife. And, Diane Kruger serves up both strength and an innocent charm in her role as Gina. Without hesitation, I give this movie five well-deserved stars for everything from casting to storylines. I also predict a boom in tourism for Berlin. Overall, my take-away from this film is that "even on the worst ride of your life, there is always a road that leads to redemption." (Jeannette Jordan)





Would you like to receive a list of all the current month's film releases -- with links to reviews by the KinoCritics -- delivered right into your email box? If so, click
here
to subscribe to the
KinoCritics Newsletter
. We'll email it to your inbox at the beginning of every month.