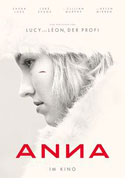 ANИA demands your attention. Her (Sasha Luss) story is chilling, beginning in Moscow, Russia in 1985 and the unknown; then when Alex (Luke Evans) offers a "fresh start." Which inevitably leads to the government and Olga (Helen Mirren), but first Anna Poliatova must prove herself. Bewitchingly beautiful, assignments increase, just as challenges intensify increasing her proficiency thus creating an unknown, yet feared assassin. From high-fashion Parisian runways to Italy to the Bahamas, along the way Anna picks up new skills, plus friends and associates (Cillian Murphy/Larry, Lera Abova/Maud, Alexander Petrov/ Piotr, Alison Wheeler/ Dorothée). When she meets Olga's boss, negotiations are tense until, Vassiliev (Eric Godon) suggests a game of chess; Anna demurs, suggesting at another time. With her expertise, Anna's biggest challenge arrives with the biggest payoff, should she pull it off. Steeling her nerves, Anna proceeds; likewise, some overlook being careful of good chess players, especially if a woman.
Writer-director-producer Luc Besson's screenplay progresses at a breathtaking pace, shifts forward/backward in leaps of years and months, and from one continent to another. The volatility of Anna's confrontation scenes is equally explosive. Thanks to Julien Rey's dexterous editing following this action-packed espionage thriller's intricacies is possible. The cast is impressive, especially Luss, Evans, Mirren, and Murphy in maintaining the subterfuge embedded in the narrative. Contributing to its overall effect is Éric Serra's temperamental music, Thierry Arbogast's capriciously astute cinematography, and Hugues Tissandier's diversely integrated production design. "Trouble never announces itself." Just as, ANИA is entertainment for robust constitutions. (Marinell Haegelin)





Would you like to receive a list of all the current month's film releases -- with links to reviews by the KinoCritics -- delivered right into your email box? If so, click
here
to subscribe to the
KinoCritics Newsletter
. We'll email it to your inbox at the beginning of every month.