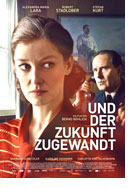 It is 1952 in the Soviet Union and a young Communist named Antonia Berger (Alexandra Maria Lara) is released from prison and sent to Eastern Germany (German Democratic Republic). There she is given a new life and a helpline which saves her daughter's life.
It all seems to be too good to be true -- a beautiful and spacious apartment, a day job and kind neighbors who are supportive. She finds the help she needs in order to care for her daughter and falls in love with the charming Doctor Zeidlier (Robert Stadloper).
Can she forget her painful past, the years she has spent toiling in those woods back in the Soviet Union in captivity? This is her secret and her burden, which she has to bare and promised not to tell a soul! Her freedom is once again at risk, but does she have the strength to move on and seize the day? (Charis Habertag)





Would you like to receive a list of all the current month's film releases -- with links to reviews by the KinoCritics -- delivered right into your email box? If so, click
here
to subscribe to the
KinoCritics Newsletter
. We'll email it to your inbox at the beginning of every month.