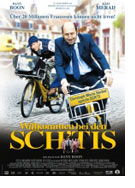 Multi-talented Dany Boon directed, co-wrote and starred in this very physical comedy, basically about the differences between the north and south of France, which produce prejudices, a universal theme for many countries. Post office administrator Philippe Abrams (hilariously portrayed by Kad Merad) is banished from his comfortable life in Salon-de-Provence afer being caught red-handed scamming an inspector. His punishment (to everyone's horror) is reassignment for three years way up north in Bergues. Not even his wife will join him, leaving him alone to deal with what the south considers Neanderthals, who speak the strange dialect Ch'ti. Upon Philippe's arrival, letter carrier Antoine Baileul (Boon) attaches himself to his boss, helping him adjust to his new post – and many new adventures. Winner of the 16th FilmFest Hamburg Audience Award, this comedy was also nominated for Audience Award for the 2008 European Film Awards. Highly recommended! (Nancy Tilitz)


Second Opinion

The Ch'ti (pronounced "Sch'tie" in German) live in Nord-Pas de Calais, a region in the North of France, and neither the Ch'tis nor their region are really popular. It's common knowledge (in this film at least) that Nord-Pas de Calais is an uncivilized region, cold and dark, where people speak an unintelligible dialect called Chtimi and generally drink too much. In fact, having to live there is considered a punishment by almost everyone not Ch'ti.
Philippe (Kad Merad) lives in Salon-de-Provence with his wife and kid and wants to relocate to the South of France, because his wife, Julie (Zoé Félix), feels she must live by the ocean, in a warm and sunny climate. Philippe tries really hard to fulfil her wish, but in the end his job takes him in the opposite direction, to Bergues, a town in Ch'ti country. As his already depressed wife can't possibly be expected to live there, he leaves on his own to serve what they consider to be something like a two-year prison term in the North.
Poor Philippe arrives in Bergues after dark, in the streaming rain, only to find his apartment is unfurnished, not even a bed to sleep in! He spends the night at the home of a colleague, Antoine (Dany Boon), a shy man in his thirties who still lives with his mother. Due to the "language barrier", communicating with the Ch'tis is difficult and the food they serve also takes getting used to. Still, the natives are friendly and fill Philippe's apartment with all the furniture they don't need anymore. They also try to comfort him with a saying: A stranger visiting the Ch'tis will cry twice: when he arrives and when he must leave. True or not, the two years Philippe spends in Bergues will change his life in a way he hadn't expected.
This comedy (called Welcome To The Land of Shtis in English), a box-office hit in France and nominated for a European Film award (Best Film), was directed and co-written by comedian/director Dany Boon, who also plays Phillipe's colleague Antoine. While certain plot twists did not exactly catch me by surprise, the dialect-related jokes and misunderstandings (a real challenge for the translator!) and the "clash of cultures" (the North versus the South of France) alone are good for a lot of fun. This film could be a work out for your laughing muscles – warm up before watching! (Christa Greiff)





Would you like to receive a list of all the current month's film releases -- with links to reviews by the KinoCritics -- delivered right into your email box? If so, click
here
to subscribe to the
KinoCritics Newsletter
. We'll email it to your inbox at the beginning of every month.