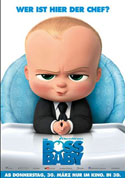 Timothy Tempelton (Bakshi) is seven-and-a-half and lives with his mother Janice (Lisa Kudrow) and father Ted (Buscemi). He enjoys being an only child, a bit spoiled; mom and dad sing him to sleep every night ("Blackbird" by the Beatles). Every morning his alarm clock Wizzy wakes him to a new day. Life is perfect until his parents step out of a taxi and bring a "baby" (Baldwin) home. It wears diapers, but that's about as close to babyhood it gets. Otherwise, the boss baby wears a suit and tie and carries a briefcase. A play date with his peers turns out to be a meeting of his "colleagues" from Baby Corps, a company with one goal in mind: keep puppies out. Puppies are unfair competition for the love of parents. Tim's relationship with the baby develops from immediate jealous rejection to collaboration. If Tim can help the baby boss achieve his goal of eliminating puppies and therefore rise to higher management in the company, it will disappear and Tim can return to being an only child. One way of assistance is to instruct the baby in childish ways, because as Boss Baby says, "I never was a child; can't miss what you never had." Janice and Ted, by chance, happen to work at Puppy Co and are, themselves, considering a pet.
I'm not sure if this is really a film for younger children, but adults will appreciate the animation, which works especially well when speaking English. Based on the book by Marla Frazee, the action is perky, continues from one high to the next including visits to Baby Corps, Scary Poppins, Elvis, Las Vegas, a chase, a rescue, as well as conversations between Timothy and his "brother."
I still don't understand why the parents do not pick up that this is not a normal baby. Considering the detailed and wonderful animation, I was not surprised that the end credits rolled on forever. I was rewarded for watching them, as a good journalist should, when, in the end, Wizzy pops up and tells me, "Go home; you've been sitting here long enough." (Becky Tan)





Would you like to receive a list of all the current month's film releases -- with links to reviews by the KinoCritics -- delivered right into your email box? If so, click
here
to subscribe to the
KinoCritics Newsletter
. We'll email it to your inbox at the beginning of every month.